2020-2021 Academic Catalog
[ARCHIVED CATALOG]
2020-2021 Academic Catalog
---
The Academic Catalog outlines, in detail, the requirements for the degree and certificate programs offered at Blue Mountain Community College.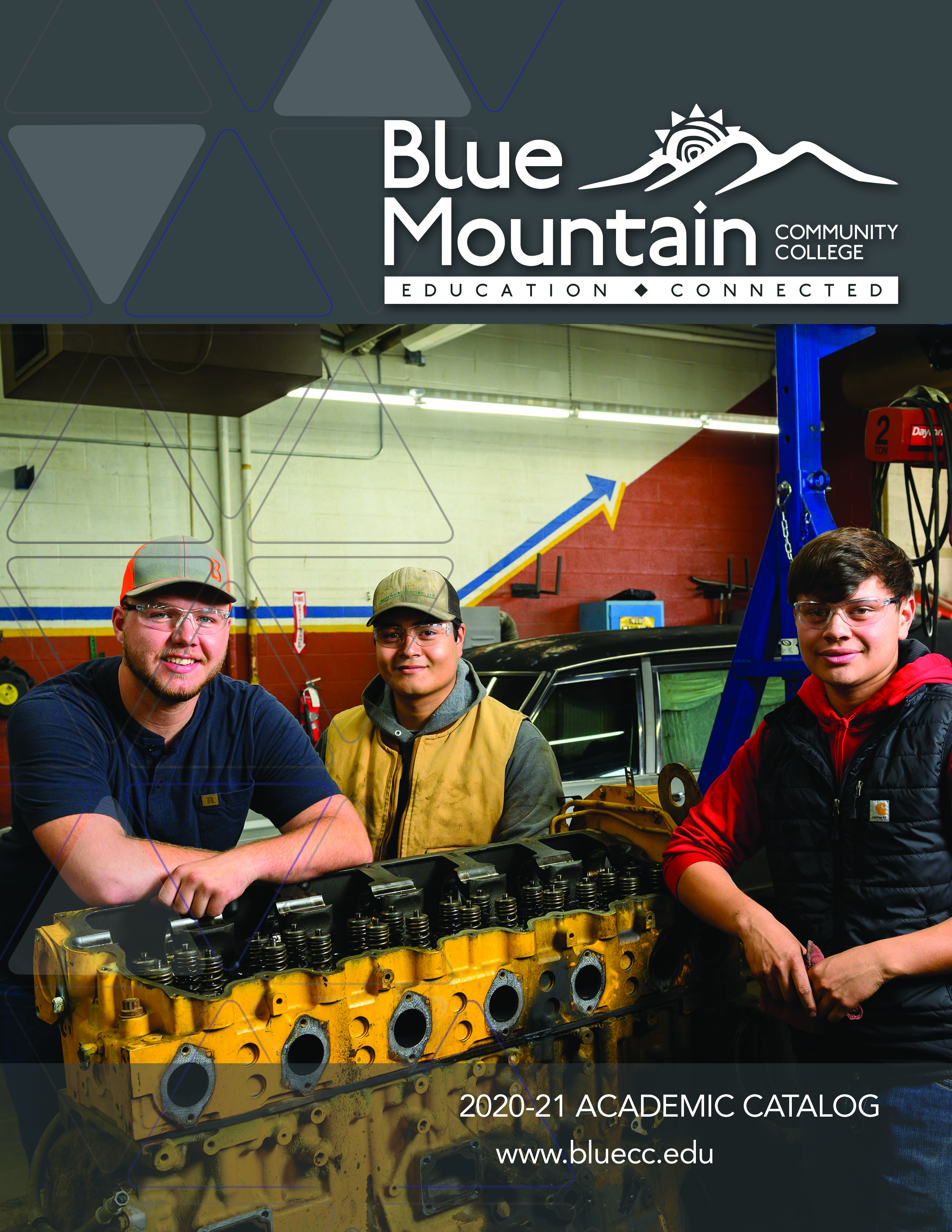 You are currently viewing the BMCC Online Catalog
To switch between different catalog years, please use the drop-down menu at the top-right of this page.
For catalogs not listed in the menu (prior to 2016-2017) visit the Publications Archives link posted on the left-hand menu
Candidates for academic awards assume the responsibility of reading the catalog; adhering to all policies pertaining to degree and certificate completion; earning the minimum number of credits as outlined for a degree or certificate program; and achieving the specified minimum course grades and grade point averages required for the academic degree program or required for a certificate program.
Notification to all Applicants for Admission and Students
This catalog is for information purposes and does not constitute a contract. This catalog expires and cannot be used for graduation after the end of spring term 2020. The requirements must be completed within five years of the beginning date of the catalog selected. Degree and certificate requirements must be from one catalog, which begins in the summer term and runs through the end of spring term of the next calendar year. All regulations and conditions other than those stated above are subject to change. Blue Mountain Community College reserves the right to make changes in this catalog as needs arise and to make final interpretations of the statements contained therein. Without notice the College reserves the right to change tuition, fees, and related requirements and regulations as prescribed by the Board of Education, the Higher Education Coordinating Council, or Legislative action.
Important Contacts
Section 504 Coordinator - P.O. Box 100 - Pendleton, OR 97801   541-278-5965
Title II - Director of College Preparatory Programs - P.O. Box 100 - Pendleton, OR 97801   541-278-5795
Blue Mountain Community College is accredited by the Northwest Commission on Colleges and Universities.
BMCC is an equal opportunity educator and employer.  To view BMCC's Equity and Non-Disclosure Policy CLICK HERE.
Catalog Icon Guide

Degree Planner
(Degree Programs Only)

Add to 'My Portfolio'

Social Media

Print-Friendly Format

Help

Plan It!
The Degree Planner icon is at the top of each program and provides a print-friendly version of the degree requirements in a checklist format. Please review these requirements with your Academic Advisor, as yours may differ from the general requirements listed.

Save it!
Create a personal portfolio by clicking on the My Portfolio link at the bottom of the left navigation pane. After creating an account, you may add courses to your favorites by selecting the star icon located on the top right of the page.

Talk About It!
Share catalog information on Facebook and Twitter.

Print It!
Selecting this icon will generate a pop-up page formatted to neatly print.

Use It!
Includes more information about how to use the catalog.
---